Student GREEN Congress is celebrating its 25th anniversary on March 23, 2017!
This annual event is hosted by the Nisqually River Education Project (NREP) and South Sound GREEN (SSG) at The Evergreen State College as a way to celebrate healthy waters and hands-on learning.
Two times each year, students in NREP and SSG monitor water quality at a local river or creek to determine if it is suitable for salmon. In the Nisqually Watershed alone, over 40 classrooms participated in Fall 2016! Each classroom then selects 8 student delegates to represent their classes at Student GREEN Congress.
At the big event, student delegates share their water quality data in a classroom of their peers. The students jointly brainstorm ways to improve water quality in their local rivers based on the data and trends they discovered. These morning sessions are called "State of the River Sessions" and give students a unique opportunity to share their science with other students and with natural resource professionals. In the afternoon, students sign up for 1-2 fun and educational workshops with themes ranging from salmon dissection to story telling, nature mapping to wilderness skills and everything in between!
As you can imagine, Student GREEN Congress is a hit with students because they get to highlight the hard work they've done, learn new skills, and meet students from other schools. This year, we want to make the 25th Annual Student GREEN Congress an extra special event and we need YOUR help! There are many ways to get involved, but here are two ideas:
Enter to win our Logo Contest!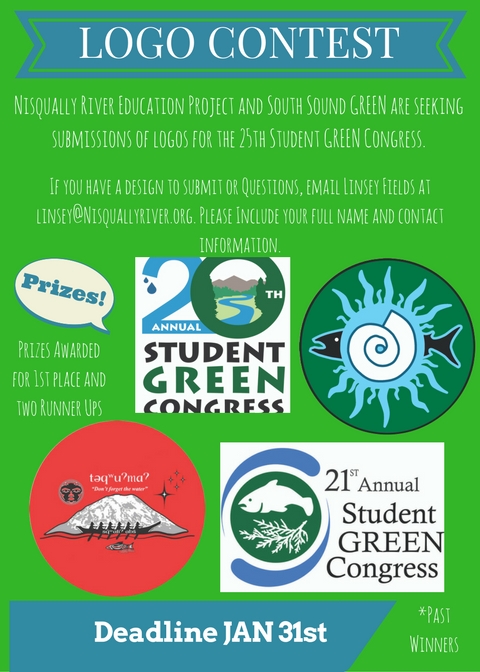 Show off your art skills by entering our logo contest! We are accepting entries until January 31st.
Your original design should incorporate the number "25"
It should be reproducible in Black & White and Color.
It should have high quality resolution, winning logo will be used on Posters and as small as 2×2.
1st Place prize is a NREP HOODIE
2 Runners Up will win a WATER BOTTLE
All submissions should be sent to Linsey Fields at linsey@nisquallyriver.org. You entry should include your full name and the best way to contact you. Once again please submit before or on January 31st.
Make a donation
Student GREEN Congress is made FREE for all students attending the event. Help us make sure we can provide a fun and high-quality experience for everyone, by making a tax deductible donation to the Nisqually River Foundation. Send a student, a class, even a school–and thank you for your on-going support. Donations can be made online at nisquallyriver.org/support-our-efforts.