Hear all about the 26th Annual Student GREEN Congress from our AmeriCorps volunteer Brandon Bywater.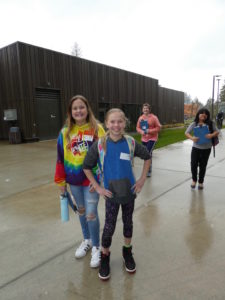 On March 22, 2018, over 500 students from all over the South Puget Sound area descended upon The Evergreen State College for the 26th annual Student GREEN Congress (SGC). The SGC is the culminating experience of the water quality monitoring program coordinated by the Nisqually River Education Project (NREP), where students from all over the watershed share their data and observations from their testing sites spread throughout the Nisqually basin. 
Beginning in September, I began entering classrooms to educate students about the importance of water quality and how to test for several factors that affect it. All of these lessons focus heavily on how water quality issues impact local salmon populations, including the threatened chinook and steelhead salmon. The students learn how to perform their own tests to measure levels of dissolved oxygen, water temperature, pH, turbidity, fecal coliform, nitrogen and total suspended solids, all of which can have devastating impacts on salmon populations when not in their target range. On October 19th, 48 classrooms took to the field to perform water quality tests at their sites ranging from Ashford to the mouth of the Nisqually River, testing water from the main stem of the Nisqually as well as the many streams that feed into it. All of the data collected by these classrooms are then sent into the NREP where they are compiled, analyzed and saved in our database for future use.
On February 15th, the same group of classrooms went back to visit their fall testing sites to perform the same set of tests. Each set of tests represents a snapshot of these sites at that very moment and, individually, don't paint a complete picture of the long-term health of the watershed. By monitoring the water quality in the fall and winter, we allow the students to compare and analyze the data in a bigger scope. These data are collected and sent into the NREP where we handle the data in the same way as the fall. However, now begins the real fun of teaching water quality to students. The fall/winter data is compared in a series of graphs to demonstrate the changes a dynamic system undergoes in a short time and we share that data with the students.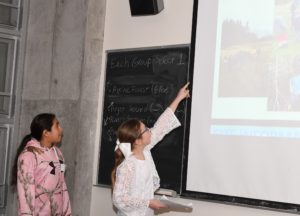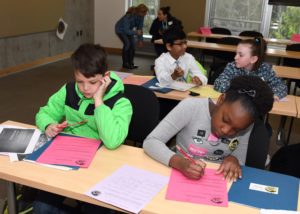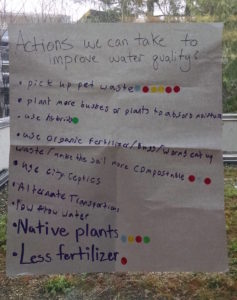 Student GREEN Congress brings together all of the participating schools from the NREP's program and from similar programs in nearby South Sound watersheds. The teachers involved in our program selected a small group of their students to represent their school at the SGC. The students were split up into 24 different "State of the Rivers" sessions and compared their data, identified "hot spots," found data worth celebrating, and suggested potential action projects aimed at addressing water quality issues. For most of those participating in SGC, this was a day of firsts: a first time being on a college campus, taking workshops led by industry professionals, and presenting scientific data to a group of strangers. The day ended with students presenting their recommendations for improving water quality and committing to take action in their schools, homes, and communities.
In addition to providing funding support for GREEN Congress and NREP's  water quality monitoring programs, the Nisqually Indian Tribe's Nisqually Environmental Team (N.E.T.) generously donated a piece of smoked salmon and a Douglas fir seedling to each student delegate at Congress. N.E.T representatives Rene Bracero (Chehalis) and Amber Lefthandbull (Rosebud Sioux) presented the gifts at the closing ceremony, reminding attendees to recognize their role as environmental stewards "in honor of all life and wealth and for a good future".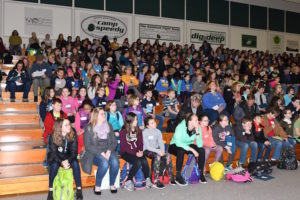 To witness first-hand the sheer number of schools and students that this program brings together around a common goal was truly rousing. As a newcomer to the Pacific Northwest and an aspiring educator navigating my way through the environmental field, I am constantly moved by the positive environmental attitudes this region maintains, but the SGC was a truly inspirational experience. As an educator, you always hope that you have a positive influence on your students; watching it happen to over 500 future leaders was very special.
Student GREEN Congress 2018, by the numbers: