Join the folks of Nisqually for our first-ever Wild and Scenic Film Festival!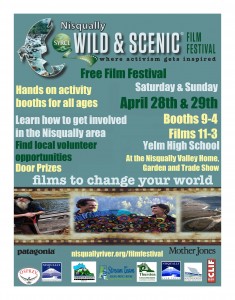 The Nisqually Wild and Scenic Film Festival will be held throughout the day on April 28th and 29th at Yelm High School's Performing Arts Center.
Free hands-on activity booths will be set up from 9am to 4pm!
Locally and nationally released films for all ages will be playing in the Performing Arts Center from 11am to 3pm!
The film festival is being held in conjunction with the Nisqually Home, Garden and Trade Show, which means there's something for everyone to enjoy!
The festival is sponsored by the Nisqually River Foundation and in cooperation with the Wild and Scenic Film Festival.  Other sponsors include the Nisqually Land Trust, Thurston County Stream Team, South Sound Estuary Association, Thurston Conservation District and Thurston County Environmental Health.
Check out the Wild and Scenic films that will change your world!
Eagle Among the Swarm
The Majestic Bag
Animals Save the Planet
One Plastic Beach
Eel*Water*Rock*Man
I Just Love to Paddle
Oktapodi
Change for the Oceans
Marion Stoddart:  The Work of 1000
Seasons: Fall
Seasons:  Winter
Seasons:  Spring
Chasing Water
The Mono Lake Story
And these amazing local films!
Canoe Way
Water Quality Monitoring in the Nisqually Watershed
Rivers and Tides:  Restoring the Nisqually Estuary
Lost and Puget Sound
Shadow of the Salmon
Dog Doogity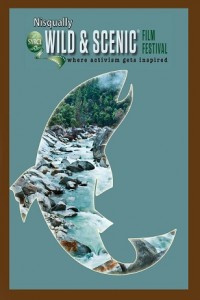 Check out the program for the event by clicking here!
For more details write us at info@nisquallyriver.org  or call 360.438.8715!
Click here to visit us on Facebook!
Check out the Wild and Scenic Website for more information their mission and other great films that are available!

A special thanks to all of our sponsors and project partners!  
Hope to see you there!