ESSB 6091 – Streamflow Restoration Act
In response to the 2018 Streamflow Restoration Act, the Nisqually Planning Unit is working to develop a plan addressing projected growth and mitigation strategies for permit-exempt domestic use wells in the Nisqually watershed (WRIA 11).
The Nisqually Indian Tribe is the lead agency for watershed planning in the Nisqually Watershed and has reconvened the Nisqually Planning Unit to respond the legislative mandate of the Streamflow Restoration Act (ESSB 6091) passed in 2018.
The Washington State Legislature mandated that the Nisqually Watershed Planning Unit proceed quickly to develop a watershed plan amendment to develop strategies to mitigate impacts of future exempt wells on stream flows. The legislature, in passing the act, allocated $300 million in capital funds over the next 15 years for all watershed planning and watershed restoration and enhancement projects.
Planning Unit meeting schedule and materials are available here for members of the public. Contact info@nisquallyriver.org for more information.
Planning Unit Documents
Planning Guidance (Washington State Department of Ecology)
Public Comment from CAC Public Information Session, 10/11/18
Nisqually Water Planning Unit Fact Sheet (one page)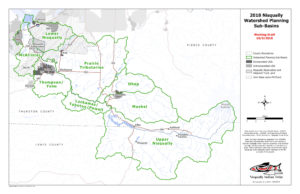 Planning Unit Meeting Schedule
Planning Unit meetings are open to the public. For information, please contact emily@nisquallyriver.org.
June 28, 2018 – Nisqually Indian Tribe Natural Resources
July 24, 2018 – Nisqually Indian Tribe Natural Resources
August 30, 2018 – Nisqually Indian Tribe Natural Resources
September 19, 2018 – Yelm Community Center
October 17, 2018 – Thurston Public Utility District
November 14, 2018 – Billy Frank Jr. Nisqually National Wildlife Refuge
December 19, 2018 – Thurston Public Utility District
Agenda TBD
January 16, 2018 – Billy Frank Jr. Nisqually National Wildlife Refuge
Agenda TBD