Join us for this FREE event!
Saturday, September 30th, 2017
10am to 4pm
Billy Frank Jr. Nisqually National Wildlife Refuge
The Watershed Festival is an annual celebration featuring art, discovery, music and family fun. This year's festival will include a number of displays from local organizations, walking tours, NatureMapping, the Insect Extravaganza, a salmon barbecue and other great coffee and food options.  We look forward to having you there!
Want to know more about what happens at the Nisqually Watershed Festival?  Check out activities and details from last year: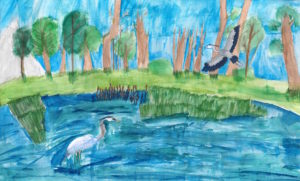 Congratulations to this 2016's Nisqually Poster Contest winner, Grace Kim, a 6th grader from Cougar Mountain Middle School! Check out the winner, plus all of the other entries, at this year's festival. The theme for this year's contest was "Migratory Birds of the Nisqually," in honor of the 100th anniversary of the International Migratory Bird Treaty Act.
The 2nd annual Nisqually Idol, a musical competition for people 18 and younger, let interested youth show off their singing voices. All contestants must pre-register with Sheila Wilson. Call or email at: 360.561.0203, Sheila@nisquallyriver.org.
Be sure to bring your own t-shirt to the festival to make a fish print with a Nisqually salmon! That and other activities will be part of the day-long celebration of nature at the 27th Annual Nisqually Watershed Festival!
Check back for the Mainstage event schedule and other family-friendly activities!
Free parking and shuttle to the festival will be available at at River Ridge High School, 350 River Ridge Drive, Lacey. Map: http://goo.gl/maps/Y2gND
For more information, contact:
Ashley Von Essen, Nisqually Indian Tribe
Office: (360) 456.5221 Ext. 2145
To volunteer, contact:
Peter Yager, Billy Frank Jr. Nisqually National Wildlife Refuge
email: peter_yager@fws.gov