The 30th Annual Nisqually Watershed Festival is September 28, 2019!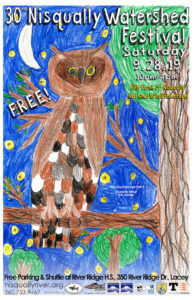 Join us to celebrate 30 years of the Nisqually Watershed Festival with science, art, discovery, music and family fun. This year's festival will feature hands-on activities with local conservation and nature organizations, mainstage performances with live animals and music, storytelling, walking tours, the Insect Extravaganza, a salmon barbecue and other great coffee and food options. Bring or purchase a t-shirt to the festival to make a wearable fish print with a Nisqually salmon! Check out video highlights from the 2018 Festival from The Olympian.
2019 Poster Contest Winner (Theme: Raptors of the Nisqually Watershed)
"The Great Horned Owl"
Charlotte Millar, 3rd Grade
Mainstage Performances:
10:00 – Olympia Highlanders
10:15 – Opening Blessing (Nisqually Tribal Elder Joe Kalama)
10:20 – Olympia Highlanders
10:45 – Nisqually Stream Stewards Graduation
11:00 – Raptors of the Northwoods
12:00 – Nisqually Canoe Family
12:40 – Poster Contest Award Ceremony
1:00 – Wolves of Washington
2:30 – Mr. Lizard's Mobile Zoo
Family friendly activities happening all day:
Paint a wood fish to decorate next year's festival
Make a salmon lifecycle keychain
Paint a salmon to make a paper print or a t-shirt (bring your own or buy one at the festival!)
Watch fish and shellfish dissections with local scientists
Take a guided nature walk along the Refuge trails
Listen to stories in the Blue Salmon Tent
See a real eagle's nest
Tour the Insect Extravaganza hall to learn about the fascinating world of bugs
Take a tour of the Nisqually nearshore
Food Available for Purchase (cash only, no ATM on site):
Salmon Barbecue
Taylor Shellfish
Freedom Snacks
Radio Fryer
Mr. & Mrs. Wonderful Fair Foods
Friends of the Nisqually National Wildlife Refuge Complex
Festival parking will be at River Ridge High School, 350 River Ridge Drive, Lacey, with a free shuttle to the Refuge running every 15 minutes.
Map: http://goo.gl/maps/Y2gN Handicapped parking will be available at the Billy Frank Jr. Nisqually National Wildlife Refuge, 100 Brown Farm Rd, Olympia.
For more information, contact:
Ashley Von Essen, Nisqually Indian Tribe
Office: (360) 456.5221 Ext. 2145
Volunteers wanted!
The Nisqually Watershed Festival would not be possible without help from hundreds of volunteers making the day a fun and friendly event. Join us!
To volunteer, contact:
David True, Billy Frank Jr. Nisqually National Wildlife Refuge
email: david_true@fws.gov