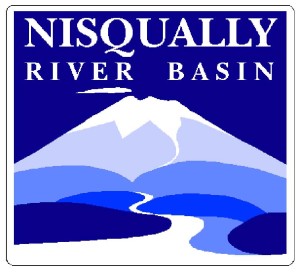 If you've visited the Nisqually Watershed, chances are you've seen this logo. There are signs along Interstate 5 signaling your descent into the watershed, and multiple non-profits use the same design for their logos.
Why the repetition?
The Nisqually River Basin logo signifies the unique collaborative atmosphere that has always been present in the watershed. It also represents the organizations and projects associated with the Nisqually River Council. The organizations work to achieve different goals and pursue different missions, but ultimately, they all support a more sustainable watershed.
The organizations are:
Nisqually River Council – the umbrella organization that led watershed planning efforts in the 1980s and continues to provide direction for sustainability in the watershed.
Nisqually River Foundation – the non-profit organization that provides the funding and staffing for the Nisqually River Council as it implements the Nisqually Watershed Stewardship Plan.
Nisqually Land Trust – the non-profit organization that was founded to acquire and manage lands in order to protect critical habitat in the watershed. Many of the lands protected surround streams in which salmon spawn each year. The Land Trust is also working to establish a Community Forest in the upper watershed.
Additionally, the logo represents specific projects of the Nisqually River Council:
Nisqually River Education Project – a 25-year old education program, NREP works with nearly 50 teachers and their students each year, providing field experiences like water quality monitoring, habitat restoration and nutrient enhancement projects.
Nisqually Stream Stewards – an adult education program that aims to connect community members to volunteer and citizen science opportunities in the watershed. Stream Stewards commit to 40 hours of free training in exchange for 40 hours of volunteer time over the course of the next year.
Nisqually Sustainable – similar to SalmonSafe, the Nisqually Sustainable program recognizes businesses that employ environmentally friendly practices. Eligible businesses must be locally owned, and receive free consultation and training to determine ways to reduce their footprint.