All of us at the Nisqually River Foundation are holding our local and worldwide communities in our thoughts as we take emergency steps to protect health and safety during the COVID-19 outbreak. Like most of you, we're adapting our routines and services for this new reality. Your support for our nonprofit helps us ensure that we can keep supporting conservation, education, and volunteers in the Nisqually Watershed now and in the future. To make a donation or just stay in touch, fill out this form.
Schedule and Online Events
Nisqually River Council meetings and Citizens Advisory Committee meetings will be held online via Zoom until further notice. All three counties of the watershed (Thurston, Lewis, and Pierce) must be in Phase III of the Governor's reopening plan before we resume in-person meetings. Contact info@nisquallyriver.org if you wish to be added to the email list for meeting announcements.
Register for Nisqually River Council Meeting on May 15, 2020
Following guidelines from Washington state and local officials to limit public exposure at gatherings, all Nisqually River Foundation events are cancelled through this summer. This includes:
March 19, Student GREEN Congress
March 20, Nisqually River Council Meeting
April 4, Nisqually River Clean-Up
All remaining Nisqually River Education Project field trips and volunteer trainings for the 2019-2020 school year
The following events will not be held in-person, but look for online and remote alternatives coming soon:
June 11, 2020 Eye On Nature Fundraiser (donations, silent auction, and guest speaker supporting Refuge field trips). Donate and register here to join!
2020 Nisqually Stream Stewards course (online offerings will be available)
2020 Nisqually Watershed Festival (online and remote activities will be available)
We are still holding professional development trainings for teachers, volunteer and community education events! We are shifting to online platforms for activities as needed until we can safely resume in-person meetings. We will continue to update this space with information about future events. For the most current information about COVID-19 and responsible steps to protect yourself and your neighbors from infection, please refer to the health departments for Washington State, Thurston, and Pierce counties.
Support Stewardship, Learning, and Resilience in the Watershed
In this challenging and uncertain time, we're staying committed to our mission of fostering hands-on environmental education, innovative conservation partnerships, and sustainable economies, communities, and ecosystems in the Nisqually Watershed. Our watershed has been working together to overcome challenges for decades, by restoring salmon habitat, celebrating our culture and community, and planning for a resilient and sustainable future. Your financial support helps the Nisqually River Foundation adapt to the current situation to keep this work going: thank you for contributing to a healthy watershed!
Stay Connected from Home
Student and teacher resources for learning at home: https://nisquallyriver.org/blog/2020/03/19/at-home-activities-for-school-closures/
Home watershed education activities from our friends at South Sound GREEN: https://southsoundgreen.org/home-watershed-activities/
Virtual Watershed Backgrounds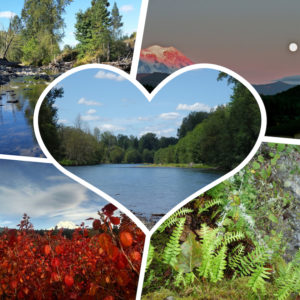 We all miss being outside working and playing with our neighbors along the Nisqually River! We're sharing this photo album of scenery from around the watershed so you can bring some Nisqually sights into your home, even while we're social distancing. Use them as a desktop background, screensaver, or upload into Zoom as the backdrop for your next meeting!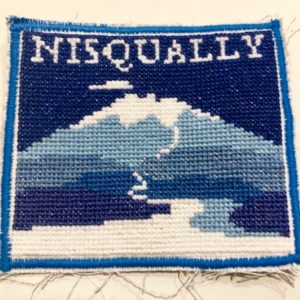 Feeling Crafty?
Download our free pattern to make a cross stitch, needlepoint, or knitted version of the Nisqually River Foundation logo! Make sure to share your project with us on Facebook or Instagram.
Students in grades 1-6, check out the Nisqually Watershed Festival Poster Contest to design your own artistic poster about Amphibians of the Nisqually Watershed! To enter the contest, designs must be submitted by June 5.
Wishing everyone good health in the coming weeks. We will see you back in the watershed soon!