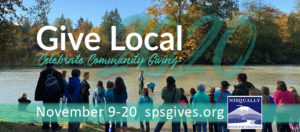 At the Nisqually River Foundation, we believe that local collaboration and lifelong learning are the keys to a sustainable future. For over 15 years, our education and outreach efforts have connected thousands of people to the spectacular lands and waters of the Nisqually Watershed, from Mount Rainier to Puget Sound. Your support is a commitment to keeping our watershed a healthy and resilient place for South Sounders to live, learn, work, and play for generations to come.
This year more than ever, we've been inspired by the strength, dedication, and resilience of our communities in and beyond the watershed. That's why we're excited to be participating in the South Sound Give Local campaign for the first time this year, from November 9 through November 20.
Give Local is an annual two-week giving campaign, hosted by the Community Foundation of South Puget Sound, designed to raise awareness and support for nonprofits throughout Thurston, Mason, and Lewis Counties. Here in the Nisqually Watershed, we know that sustainable communities need healthy environments, economies, and social support systems, so we're incredibly proud to be part of this effort alongside so many of our local partner organizations. Here's what your donations mean for our work:
Donations made through Give Local receive a proportional boost from the Community Foundation's Bonus Fund, which helps give us additional security and flexibility to adapt during this challenging year. In addition, thanks to the generous support of our Board of Directors, the first $3,500 in donations to the NRF will be matched 1:1, which doubles the impact of the gift! And we've worked with local tribally-owned business Nisqually Post and Print to create some fun perks, like collectible thank-you postcards and a set of Nisqually Salmon greeting cards for donors over $50 (or over $13 on Friday the 13th), so you can represent and share the Nisqually Watershed story far and wide all year! 
A few more reasons to donate during Give Local:
Generous community partners have come together to absorb all credit card processing fees – ensuring that 100% of your contribution supports our local organization.
This year, the Dawkins Charitable Trust has put forward a proportional boost Incentive fund of $100,000. Whatever percentage of all funds a nonprofit receives will grant that nonprofit the same percentage of the incentive fund. This means your gift will go farther!
If you make your contribution on a Wednesday, you'll be entered into a drawing for a $100 gift voucher that you can direct to the nonprofit of your choosing. This gives you an opportunity to potentially double your gift!
We know that this year has brought challenges that none of us could have anticipated. Even if you aren't able to make a monetary donation this year, sharing this email with friends and neighbors or giving us a shout-out on social media helps us spread the word and bring more people into our watershed community. Most of all, we want you all to know how grateful we are that you are part of our Nisqually Watershed family!