We are excited to be welcoming some new staff this month. Today, meet Emily McCartan, our new Nisqually River Council Program Coordinator, and stay tuned for more introductions this week!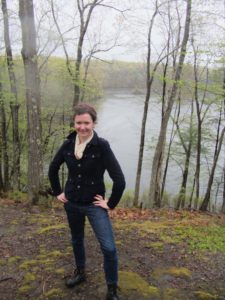 Hello Nisqually! Over the last ten years, I've worked in education outreach and public policy with a wide variety of agencies and nonprofits around the country. I received my bachelor's degree from Lewis & Clark College and my master's in public humanities from Brown University, and have experience in government, cultural, arts, and conservation organizations around the country. A couple of my favorite projects have included working on heritage foodways and agriculture programs in Accokeek, Maryland, and education outreach at the Rosie the Riveter National Historical Park in Richmond, California. Most recently, I supervised intern and civic education programs at the Washington State Legislature from 2013 to 2017.
I'm also a native Washingtonian and South Puget Sounder with fond memories of making a salmon life cycle card game in 2nd grade, so I'm thrilled to be coming home to the Nisqually community in this role. I'm looking forward to coordinating Nisqually River Council and Citizens Advisory Committee meetings, the Nisqually Stream Stewards program, and the upcoming Watershed Report Card, as well as supporting grantwriting, outreach, and other initiatives through the Foundation. Reach out to me any time at emily@nisquallyriver.org, or via our Facebook or Twitter pages. See you around the watershed!