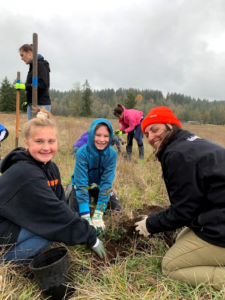 The NRF provides the staffing and funding power necessary to implement key portions of the Nisqually Watershed Stewardship Plan, as directed by the Nisqually River Council. NRF staff work internally and with partners on a variety of community-based conservation, educational, and outreach projects that focus on increasing social, economic and ecological sustainability.
Our core programs include staffing the Nisqually River Council, co-hosting the Nisqually Watershed Festival, directing the Nisqually River Education Project, and co-leading the Nisqually Stream Stewards volunteer program.
As time and funding allows, we also take on other projects that accomplish the goals of the NRC. Our current projects are:
Supporting the Nisqually Planning Unit in conducting and implementing water planning to mitigate for permit-exempt domestic wells in the watershed, under the Streamflow Restoration Act guidelines (ESSB 6091).
Establishment of the Nisqually Community Forest to protect forestland and salmon habitat, while providing resources for local communities.
Adapting to climate change through the development of an adaptation plan and a 3-year education project
Forming the Nisqually River Water Trail to increase non-motorized boat access to the lower Nisqually River.
Reducing stormwater runoff and improving water quality through low impact development in Eatonville.
Placing value on the natural benefits, or ecosystem services, of the Nisqually Watershed by protecting old growth forests that purify Olympia's drinking water.
Hiring contract employees on the behalf of our partners. The NRF charges a small overhead fee in exchange. To learn more, contact justin@nisquallyriver.org.