Welcome to the 2020 Virtual Nisqually Watershed Festival!
The Festival premiered on YouTube on September 26, 2020. Watch the whole thing right here!
We'd love to hear your feedback about the Festival: fill out our survey here.
Donate to support the Nisqually Watershed Festival 
Festival Schedule
Our Virtual Festival will premiere on YouTube at 10:00am on Saturday, September 26! Times below are subject to revision. Watch here or join us on YouTube for live chats with the Festival committee and exhibitors!
| | |
| --- | --- |
| 10:00 AM | Welcome and Olympia Highlanders Performance |
| 10:13 AM | Nisqually Canoe Family Performance |
| 10:15 AM | Mount Rainier National Park |
| 10:37 AM | Nature Break: Flyover of the Nisqually Community Forest |
| 10:40 AM | Meet the Reptiles! with Mr. Lizard's Mobile Zoo |
| 10:51 AM | Wildlife, Habitat, and Recreation with Tacoma Public Utilities |
| 11:07 AM | Nature Break: Flyover of Mashel Watershed |
| 11:14 AM | Eco Tractors! Building log jams for salmon recovery on the Mashel River |
| 11:21 AM | About the Nisqually Land Trust |
| 11:27 AM | Nature Break: Streamside on the Mashel River |
| 11:33 AM | Northwest Trek Investigators Program |
| 12:07 PM | Craft: Make a Stick Snail with Northwest Trek |
| 12:15 PM | Ohop Valley Restoration |
| 12:25 PM | How to Plant a Tree with Nisqually River Education Project |
| 12:31 PM | Nature Break: Flyover of Middle Nisqually River |
| 12:36 PM | What's in the Wetland? with Davy Clark |
| 12:42 PM | Craft: Salmon Printing T-Shirts |
| 12:51 PM | Nature Break: Streamside on the Nisqually River |
| 12:54 PM | Storytime with Yelm Timberland Regional Library |
| 1:06 PM | Billy Frank Jr. Nisqually National Wildlife Refuge |
| 1:12 PM | Watershed Festival Poster Contest Retrospective |
| 1:20 PM | Meet the Wolves at Wolf Haven |
| 1:41 PM | How to Do a Crab Survey with Nisqually Reach Nature Center |
| 1:47 PM | Dogfish Dissection with Nisqually Reach Nature Center |
| 2:11 PM | Craft: Egg Carton Oysters with Puget Sound Estuarium |
| 2:15 PM | Tour Historical Sequalitchew Creek with DuPont Historical Society |
| 2:17 PM | Salmon and Orcas with Orca Network |
| 2:23 PM | Volunteers for Healthy Puget Sound Beaches with Olympia Surfrider |
| 2:25 PM | Host Committee Thank You and Critter Parade! |
| 2:26 PM | Outro from Olympia Highlanders |
Crafts and Activities:
Salmon Life Cycle Beads: create a bracelet that represents the salmon life cycle and the healthy environment they need! (Directions courtesy of City of Bothell.)
Critter Parade Masks: print and decorate a wildlife mask and send us a picture for the Virtual Critter Parade!
Nisqually Estuary Restoration Puzzle: experience the transformation of restoring over 700 acres of tidal estuary at the Billy Frank Jr. Nisqually National Wildlife Refuge, by making this puzzle with beautiful art from Lucia Harrison. Then tune in on September 26 for a live science experience to learn about the bugs and other creatures that live in the Refuge's wetlands!
Salmon art: decorate your own paper salmon and send it to info@nisquallyriver.org to join our school of fish! Just like the wooden fish that decorate the festival most years, a colorful salmon makes a great window or fence decoration to show your watershed pride. Download coloring pages of the five species of Nisqually salmon to decorate and display. And check out the salmon art from past festivals for inspiration! To learn more about the lives of salmon and their importance for the people of the Nisqually Tribe and other Native communities, try the activities for young learners in Since Time Immemorial, Washington State's Native Education curriculum.
Ecosystem Bingo and Wolf Haven activities: Carnivores, herbivores, and omnivores are all part of a healthy ecosystem food web! Make your own version of Wolf Haven's BINGO card game to play exploring the different species that live here in Washington. During the Festival, Wolf Haven will take us behind the scenes with a video tour of their sanctuary: if you can't wait, check out this video and play Skull Detectives! .
Virtual Stream Surveys: Check out What's In The Wetland in the Festival recording to explore the insects, amphibians, and fish that live in the wetlands at the Billy Frank Jr. Nisqually National Wildlife Refuge. To try your skills at identifying some common stream and wetland dwellers, check out these two interactive games:
Get Involved: Science and Stewardship in the Nisqually Watershed
Volunteer for Habitat Restoration
| | | |
| --- | --- | --- |
| With social distancing and sanitation procedures in place, it's now safe to volunteer outdoors with the Nisqually Land Trust as they plant native trees and shrubs in riparian restoration zones. These plantings are key to restoring healthy, shady streams where salmon can spawn in the watershed. Without school field trips this year, we need a lot of help getting thousands of trees in the ground – perfect activity for family, scout, or service groups! Check the Land Trust's calendar or contact Sheila Wilson at sheila@nisquallyriver.org to sign up. | | |

Stewardship At Home
| | | |
| --- | --- | --- |
| September is Puget Sound Starts Here month! Take the quiz to test your water wits & salmon savvy, and learn about some actions we can all take to protect our unique waterways and area we call home. All participants will receive a code for a free 12-month subscription to Chinook Book. Take the quiz here: https://www.surveymonkey.com/r/SoundOffQuiz | | Pick up beach litter, plant a rain garden, and choose to reuse! These are all actions we can take to help improve our water quality, which helps salmon and endangered Southern Resident Killer Whales. Learn more from Orca Network about how you can help! |

Community Science
Inspired by watching the beach seine? Learn how to collect data on forage fish eggs, monitor pigeon guillemot nests, and more opportunities to understand marine life in Puget Sound at the edge of the Nisqually Watershed!

The National Audubon Society holds Climate Watch Bird Counts twice a year to collect data on how climate change is affecting particular species. They need lots of volunteers, and no experience is necessary! Sign up at https://www.audubon.org/conservation/participants-climate-watch, or contact Kim at Black Hills Audubon at
kgdolgin@owu.edu or 4info@blackhills-audubon.org.

Olympia Surfrider is partnering with Washington's Department of Ecology for our fourth year of testing for bacteria in the waters off of Priest Point Park. More volunteer opportunities with Olympia Surfrider here!
Festival Host Committee: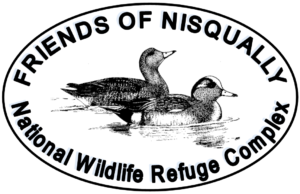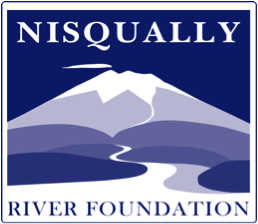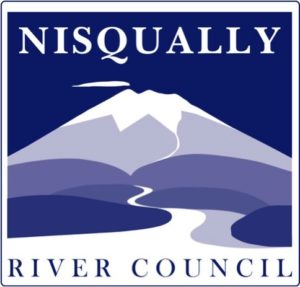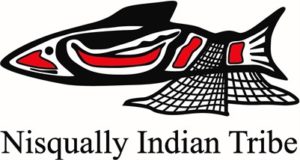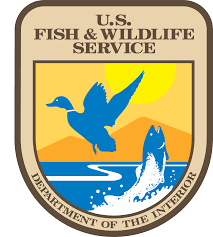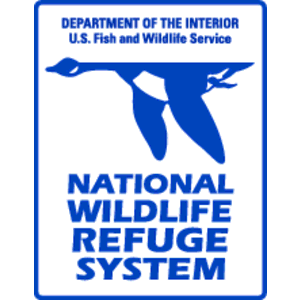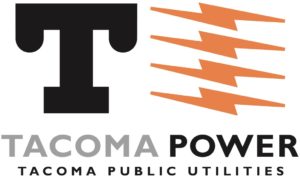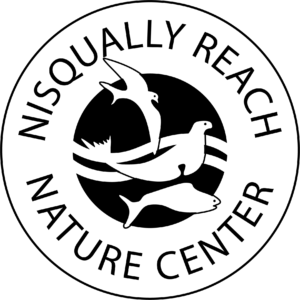 Interested in participating as a virtual exhibitor? Contact info@nisquallyriver.org!