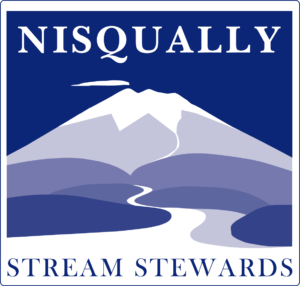 Stream Stewards Announcements
Contact us to sign up for the next Stream Stewards course! (Note: activities may be suspended or altered for public health during the COVID-19 pandemic.)
Current Volunteer Opportunities
Current Stream Stewards: Submit Volunteer Hours Online
See what previous Stream Stewards are up to in the watershed
Frequently Asked Questions about Stream Stewards

The Nisqually Stream Stewards (NSS) is a program offered by the Nisqually Indian Tribe and Nisqually River Council, who recognize that long-lasting restoration and stewardship will only come about through community-based efforts.
NSS is a free class open to anyone interested in learning about the Nisqually Watershed. We offer more than 40 hours of training, hands-on experience, and behind-the-scenes field trips around the watershed, in exchange for 40 hours of volunteer time. During the class, participants have the opportunity to meet new people, discover new places, and network with natural resources professionals from Mount Rainier National Park to the Billy Frank Jr. Nisqually National Wildlife Refuge, and everywhere in between. Discover volunteer and citizen science opportunities offered by the Nisqually Land Trust, Nisqually River Council, Nisqually River Education Project, Nisqually Indian Tribe, Northwest Trek and many more.
A sample of volunteer opportunities include: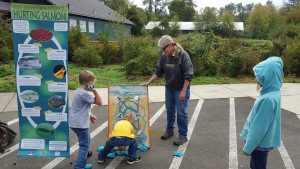 Tree planting projects
Salmon Watcher training
NatureMapping
Salmon carcass tossing
Nisqually Land Trust site stewards
Leading student field trips
Citizen Science data collection (field and lab)
Interested in other topics? Let us know! We'll try to help match you with your interests!
More information, including class presentations, a recommended reading list, and class schedule, is available on the Nisqually Stream Stewards Resources Page.
Join the Nisqually Stream Stewards and help take care of your local streams!
Nisqually Stream Stewards begin with an 8-week summer course (evenings and weekends). Participation is free and annual class sizes are limited to 30 people. Although the class is open to people of all ages, we ask that participants under 16 years old are accompanied by an adult. For more information, email streamstewards@nisquallyriver.org or call 360-438-8715. You can also like us on Facebook for all the latest Nisqually news!
Can't commit to the class and volunteer hours for this year? Drop-in volunteering at most events is open to anyone. Current opportunities and contacts for our many partner organizations can be found right here.
Nisqually Stream Stewards FAQs
Can kids and teens participate in Stream Stewards?
Yes. Stream Stewards coursework is geared towards adults but people of all ages are welcome. Youth under 16 need an adult chaperone to attend all classes with them. Kids as young as 8 have participated in Stream Stewards and children with supervision are welcome at most events.
Can I participate in Stream Stewards if I have a disability or mobility challenges?
Yes. Stream Stewards welcomes people of all abilities. The coursework portion of the program is a mix of classroom lectures, activities, and outdoor field experiences. Some field experiences involve a moderate amount of hiking over terrain that may be steep, uneven, or slippery, and is not wheelchair-accessible. People with limited mobility may not be able to participate in every part of a field experience. There are numerous volunteer opportunities that don't require strenuous physical activity, including computer work, supporting education programs, and citizen science data collection. If you have questions about how the program might work for you, please contact us!
Can I get college or professional development credit for Stream Stewards?
Stream Stewards classes are eligible for Continuing Education Units (CEUs) through Northwest Indian College. CEUs are for professional development and community education purposes and do not count for college credit. We are happy to discuss independent learning contracts or other opportunities to incorporate Stream Stewards into for-credit college coursework.
Can I participate in Stream Stewards if I need to miss a class?
We can usually accommodate up to three absences from Stream Stewards classes and field trips. Because we organize carpools and other resources based on the number of participants, we ask that you let us know in advance if you need to miss a class. If you can't complete the course in one year, you are welcome to come back the next!
Are volunteer events mandatory?
Nisqually Stream Stewards hosts several public volunteer events each year, including tree plantings, salmon tosses, and river or park clean-ups. These events are not required, but it is a great way to stay connected to NSS classmates and we encourage Stream Stewards to attend and to bring friends and family along! You'll also find Stream Stewards volunteering at other events in the watershed year round, with the Nisqually Land Trust, Nisqually Reach Nature Center, Citizens Advisory Committee, Salmon Watchers program, and more. Each Stream Steward is responsible for arranging their 40 volunteer hours in a way that meets their own needs and interests, and for reporting them back to the Stream Stewards coordinators.
Do I have to join Stream Stewards to volunteer?
No! Anyone is welcome to volunteer at Stream Stewards events or with our many Nisqually partners. If you want to get involved but can't make the full commitment to 80 hours of Stream Stewards classes and volunteering, check out our list of volunteer opportunities and feel free to contact the hosts directly for more information and to receive news about upcoming events. We also frequently share volunteer opportunities on our Nisqually Stream Stewards Facebook page.
Does training time count towards my volunteer hours?
Yes. Some volunteer programs require an orientation or training. Your training time does count towards your 40 hours – just log it and report it on your volunteer timesheet.
Where do Stream Stewards volunteer?
Nisqually Stream Stewards primarily supports activities and organizations within the Nisqually Watershed (map here). Many Stream Stewards-sponsored events take place in the upper watershed on the Mashel and Ohop tributaries, supporting the restoration of vital salmon habitat. There are many ways to get involved with partners from Mount Rainier down to the Nisqually Delta and Reach near Olympia. For a list of our major volunteer partners, their activities, and how to contact them, visit our Volunteer Opportunities page. Most of your Stream Stewards 40-hour commitment should be met working within the watershed. If you have questions about whether an activity qualifies for Stream Stewards hours, contact us any time.