The Nisqually River Council (NRC) has pursued sustainability in the Nisqually Watershed since its creation in 1987. After the Nisqually River was designated as a "River of Statewide Significance" in 1972, a Task Force of timber, agriculture, hydropower, conservation, landowners, and tribal representatives worked to balance the rights of private landowners, statewide public interests, public access to the river, and fish and wildlife protection.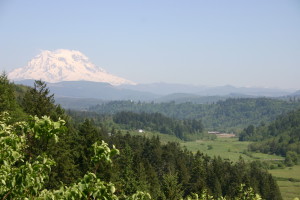 Today, the NRC has 24 member agencies, representing state, federal, tribal, and local governments, as well as an active citizens advisory committee. We act as an education and advocacy organization that promotes collaboration, trust and communication between community members, agency representatives, and non-profit organizations. The NRC is guided by the Nisqually Watershed Stewardship Plan (NWSP), which contains our vision for a sustainable watershed community. Our mission is to create sustainability in the Nisqually Watershed for current and future generations by developing a common culture of environmental, social, and economic balance. 
We meet the third Friday of every month at various locations throughout the watershed. All meetings are free and open to the public. The Nisqually River Foundation (NRF) is the non-profit organization that provides the staffing and funding power to the NRC.