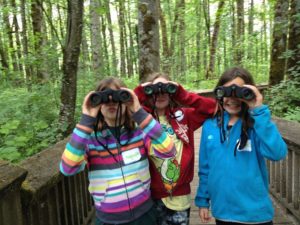 Want to support local efforts to connect kids with nature? Then mark your calendars for the evening of Tuesday January 23 and join us for our annual Eye On Nature fundraiser at the family-friendly Fish Tale Brew Pub in downtown Olympia (515 Jefferson St SE, Olympia, WA 98501). The fun begins at 5:00PM!
Eye On Nature is a citizen-science education program that connects kids with nature. This unique program involves a partnership between Friends of Nisqually National Wildlife Refuge Complex, Nisqually River Education Project, Chehalis Basin Education Consortium, and Nisqually Reach Nature Center.
We will be raising funds through door donations and a silent auction. All proceeds will be used to get kids outside, into nature, and excited about wildlife! With community support, we hope to provide free field trips to the Refuge for 750 students.  Fish Tale will be donating 50 cents for every pint purchased that evening.
You do not need to be present to win silent auction items. Winners will be contacted and prizes held for pickup for two weeks at Billy Frank Jr. Nisqually National Wildlife Refuge, open Monday-Friday 7:30-4:00 and Saturday-Sunday 9:00-4:00.
Can't make it to the fundraiser but still want to support the cause of connecting kids and nature? There are two ways you can help!
Donate online to the Eye On Nature Program by clicking 

HERE (via the Nisqually Reach Nature Center).
$6.00 covers the cost of transportation for one student
$30 sponsors a small team of 5 young citizen scientists
$150 brings a whole class to the Refuge
$300 pays for transportation costs for an entire bus of budding naturalists!

Donate to the silent auction! Have a nature-themed art piece, gift, or other item you'd be willing to donate? We'd love to use your donation as a silent auction item. Just drop it off in the Administrative Office at Billy Frank Jr. Nisqually National Wildlife Refuge, open Monday – Friday 7:30 AM – 4:00 PM or the Norm Dicks Visitor Center at the Refuge, open Wednesday – Sunday 9:00 AM.
Questions? Please contact Sheila Wilson at Sheila@nisquallyriver.org or 360-438-8715. We can't wait to see you there!