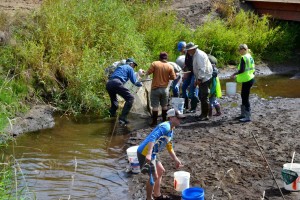 The Nisqually Stream Stewards (NSS) is a program offered by the Nisqually Indian Tribe and Nisqually River Council, who recognize that long-lasting restoration and stewardship will only come about through community-based efforts.
NSS is a free class open to anyone interested in learning about the Nisqually Watershed. We offer 40+ hours of training in exchange for 40 hours of volunteer time. During the class, participants have the opportunity to meet new people, discover new places, and network with natural resources professionals from Mount Rainier National Park to the Billy Frank Jr. Nisqually National Wildlife Refuge, and everywhere in between. Discover volunteer and citizen science opportunities offered by the Nisqually Land Trust, Nisqually River Council, Nisqually River Education Project, Nisqually Indian Tribe, Northwest Trek and many more.
A sample of volunteer opportunities include: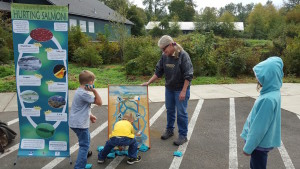 Tree planting projects
Salmon Watcher training
NatureMapping
Salmon carcass tossing
Nisqually Land Trust site stewards
Leading student field trips
Interested in other topics? Let us know! We'll try to help match you with your interests!
More information, including class presentations, a recommended reading list, and class schedule is available on the Nisqually Stream Stewards Resources Page.
Join the Nisqually Stream Stewards and help take care of your local streams
Registration for NSS 2018 will open up in the spring of 2018. Classes will run from August through September (meetings are usually one weeknight per week and occasional Saturday field trips). Saturday trips vary in length, but generally run for half a day.
Participation is free! Class sizes are limited to 30 people each year for space reasons. Although the class is open to people of all ages, we ask that participants under 16 years old are accompanied by an adult. To sign up or for more information, email streamstewards@nisquallyriver.org or call 360-438-8715. You can also like us on Facebook for all the latest Nisqually news!