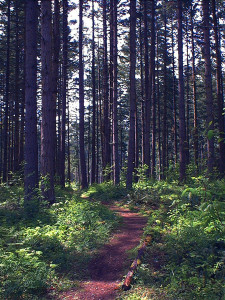 There are many places within the watershed to horseback ride. These trails are spread throughout the watershed, so it's a good idea to check trail conditions prior to going, to avoid snow or mud! No matter where you go, the trails are sure to delight.
These links will provide more information about equestrian groups who participate within the watershed:
»Backcountry Horsemen of Washington
»Washington Association of Competitive Mounted Orienteering
»E Z Times Guided Trail Rides
Below is a list of trails that allow horseback riding. The trail lengths are round-trip miles, and elevation gain (if available) is given in feet. Enjoy!
Gifford Pinchot National Forest
Explore Information
The trails in the portion of Gifford Pinchot National Forest that are in the Nisqually Watershed are often steep and used relatively lightly, often with minimal maintenance. The trails are open to multiple uses, like hiking, mountain biking and motorcycles. Pets are allowed on these trails, and there are no fees to access them, unless you park in the Osborne Mountain Campground. None of the trails are ADA approved.
Trail Name
Length
Elevation gain
Allen Mt Trail #269
8
950
**Open to multiple uses; lightly used
Osborne Mt Trail #253
11
3193
**Very steep and open to multiple uses
Teeley Creek Trail #251
8.6
860
**Open to multiple uses; lightly used
Greenwood Lake Trail #253
6
750
**Open to multiple uses; may be minimally maintained
Cave Creek Trail #255
1
160
**Open to multiple uses
Silver Creek Trail #258
9
1200
**Open to multiple uses
Big Creek Trail #252
4.8
1240
**Open to multiple uses
†Lake Christine Trail # 249
3.6
640
**A free wilderness permit is required & available at trailhead.
†Peak Two Trail #268
2.6
440
**A free wilderness permit is required & available at trailhead.
†Trail is within the Glacier View Wilderness Area
Elbe Hills State Forest
Explore Information
The Elbe Hills State Forest allows horse back riding and has an extensive trail network. These trails are viewed as the destination, rather than as a means to get to a certain place. Therefore, individual trail information does not exist. However, the forest does allow leashed pets, has some ADA approved trails, and has a front country campground that has room for horse trailers. Dispersed backcountry camping is also allowed. A Discover Pass is required to access this land.
Pack Forest
Explore Information
Pack Forest is an experimental forest managed by the University of Washington. It is open to the public for no cost, and several trails allow horses. Some of the trails are also ADA approved and leashed pets are welcome. Currently, individual trail information is not available, but maps are available at the forest headquarters. The forest has stunning views, beautiful waterfalls and lush old growth groves.

Lower Watershed
Explore Information
The lower watershed has unique opportunities to horse back ride year round, because it usually remains snow-free. These areas are Weyerhaeuser's Vail Tree Farm (with a permit), Joint Base Lewis-McChord (with limitations) and a Thurston County trail.
Trail Name
Length
Elevation Gain
ADA
Fees
Vail Tree Farm
Varies
Varies
No
Yes
**Weyerhaeuser Timber requires the purchase of a permit before access. These permits sell fast!
Yelm-Tenino Trail
27
n/a
Yes
No
**Connects the towns of Yelm, Rainier and Tenino. A dirt path runs parallel to the paved trail. In Yelm, access to the trail is behind City Hall.
JBLM
Varies
Varies
n/a
No
**Prior permission is required to access JBLM land!