This week's blog post features a 2015 Nisqually Stream Steward graduate, Warren Bergh, who has in just 6 months completed the 40-hours of Community Service we request from participants! Warren has participated in:
Eatonville Salmon Fest,
NatureMapping with our partners from Northwest Trek at Powell Creek,
Tree planting/habitat restoration at Ohop Creek with our partners from Nisqually  Land Trust,  
Salmon Watching, which gives the Nisqually Indian Tribe data on current salmon runs in the watershed,
Water Quality Monitoring Days with 5th graders from Yelm, 
and lending a hand at our 24th Annual Student GREEN Congress!
Here's what he has had to say about his experience with Nisqually Stream Stewards (NSS):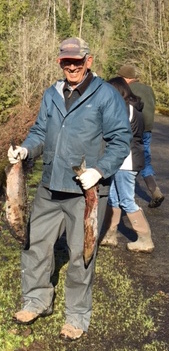 It was easy when it was so enjoyable.
What was the best part of the NSS course for you?
I have much more knowledge about restoration, maintenance, and preservation of the ecosystem.
What's been the most rewarding about your volunteer time spent since you started NSS?
Networking with people who are interested in the same goals
An appreciation of the work the groups and individuals who manage the Nisqually river projects
Surprise-  I enjoyed working with 5th graders!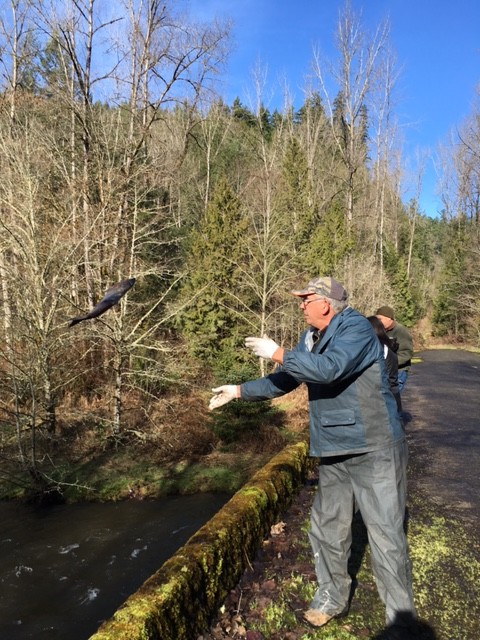 Above: Warren tossing hatchery Chinook carcasses into the Mashel River to boost the food chain for the next generation of natural salmon. 
What is the most interesting or inspiring thing that you've learned from participating in NSS?
The great group of presenters at the classes
The wide variety of field trips and hands on activities
Any advice for future NSS?
Volunteer as much as you can.
Step out of your comfort zone and participate in a variety of activities.
Thank you, Warren, for making the Nisqually Watershed, and the world, a better place!  
If you'd like to pre-register for the 2016 Nisqually Stream Stewards course, contact as today!  (360)438-8715 or info@nisquallyriver.org