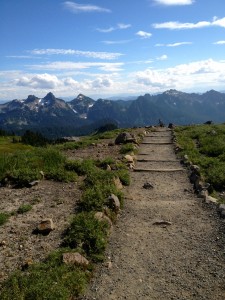 The Nisqually Watershed offers hikes high above treeline, through dense old growth forests and along the delta on Puget Sound. This offers the unique chance to explore the course of a river from its headwaters to it mouth. Since portions of the watershed remain snow-free year round, you can hike here whenever you'd like! If you do want to play in the snow, make sure to check out our snow sports page, too.
Below are lists of hiking trails throughout the watershed. Trail lengths are round-trip in miles and elevation gain (if available) is in feet. Please notice that some hikes and areas require prior permission to access, and that pets are not always welcome. Enjoy, and don't forget to pack water!
Mount Rainier
Explore Information
The
National Park
is open year-round, and the Longmire area features hikes within the Nisqually Watershed. These hikes can all be day-hikes, or backcountry trips. A free wilderness permit is required for all backcountry camping! These permits can be obtained at Visitor's Centers within the park, where the rangers can also give more detailed information on backcountry camps that are available. Dogs are not allowed outside of vehicles in the park, and some trails can have dangerous conditions. While many of the lower portions of the trails are ADA approved, weather conditions can change accessibility quickly. Check with a ranger before you go.
Trail Name
Length
Elevation gain

Wonderland Trail

93

n/a

**Permit required to hike entire trail
Lake George
9.8
390
**Popular family hike
Gobbler's Knob via Lake George
12.8
1585
**The last few miles from the lake are STEEP.
Kautz Creek Trail
10
3138
Indian Henry's Hunting Grounds via Kautz Creek
11.5
3000
Indian Henry's Hunting Grounds via Longmire
13
2400
**The bridge crossing is often washed out; double check beforehand
Eagle Peak Trail
7.2
2955
Rampart Ridge Trail
4.6
1339
Trail of the Shadows
0.5
0
Nisqually Vista Trail
1.2
400
**Views of the Nisqually Glacier-the start of the whole watershed!
Comet Falls Trail
3.8
900
**At 320 feet, the falls is one of the largest in the park
Van Trump Park via Comet Falls
5.8
2000
Pinnacle Peak Trail
2.5
1050
**Requires rock scrambling and walking through snow year round.
Skyline Trail
5.5
1700
Gifford Pinchot National Forest
Explore Information
The portion of
Gifford Pinchot National Forest
that extends into the Nisqually Watershed has several day hikes or backpacking possibilities, along with a front-country campground. Note that most of these trails are open to multiple uses, including motorcycles, horses and mountain bikes. However, this forest also includes Glacier View Wilderness. The only uses allowed along these trails are hikers and horses! There are no fees, unless you park in the Osborne Mountain Campground parking lot. Finally, pets are allowed, but no trails are ADA friendly.
Trail Name
Length
Elevation gain
Allen Mt Trail #269
8
950
**Open to multiple uses
Osborne Mt Trail #253
11
3193
**Open to multiple uses
Teeley Creek Trail #251
8.6
860
**Open to multiple uses
Greenwood Lake Trail #253
6
750
**Open to multiple uses
Cave Creek Trail #255
1
160
**Open to multiple uses
Silver Creek Trail #258
9
1200
**Open to multiple uses
High Rock Lookout Trail #266
3.2
1365
**No motorized use allowed! This trail is very popular in summer.
Big Creek Trail #252
4.8
1240
**Open to multiple uses
†Lake Christine Trail # 249
3.6
640
**A free wilderness permit is required & available at trailhead.
†Peak Two Trail #268
2.6
440
**A free wilderness permit is required & available at trailhead.
†Trail is within the Glacier View Wilderness Area

The Ashford/Elbe region
Explore Information
Near the towns of Ashford and Elbe are the
Mount Tahoma Trails Association
(MTTA) trails network,
Elbe Hills State Forest
. MTTA offers huts for day or overnight use, while the state forests offer backcountry or dispersed camping opportunities. Each area has its own uses and regulations, so make sure to check their websites for any more information you might need.
Trail Name
Length
Elevation gain
ADA
Pets
Fees
Mt Tahoma Trails
20 total
Varies
No
Yes
No
**Reservations are reserved for overnight hut stays
Elbe Hills Trails Network
30 total
Varies
Yes (one)
Yes
Yes
**These trails are viewed as the destination, not as individual entities, so individual lengths are not available.
Pack Forest
Explore Information
Pack Forest
is an experimental forest managed through the University of Washington. Open to the public, it has miles of trails, allows leashed dogs, features huge trees and beautiful waterfalls. Currently, specific trail information is not available, but maps of the trails are available at the forest itself. Some of these trails are open only to hiking, and a few are ADA approved. Other trails are open to other uses, too, like horseback riding and mountain biking.  
Lower Watershed
Explore Information
The lower watershed is generally snow-free year round, so you can enjoy hiking anytime! The areas included in this section are
Joint Base Lewis-McChord
 (with limitations),
Thurston County trails
,
Weyerhaeuser's Vail Tree Farm
(with a permit) and the
Nisqually National Wildlife Refuge
. These areas are primarily for day use only.
Trail Name
Length
Elevation gain
ADA
Pets
Fees
Yelm-Tenino Trail
28
n/a
Yes
Yes
No
**Trailhead is near Yelm City Hall. The trail connects the communities of Yelm, Rainier and Tenino, and is a paved trail.
JBLM Access
n/a
n/a
n/a
n/a
No
**Prior written permission is required for civilian hiking access on JBLM property.
Vail Tree Farm
n/a
n/a
n/a
Yes
Yes
**Weyerhaeuser Timber allows access to their land only with the prior purchase of a permit. These sell out fast! Dogs cannot be used to hunt or track game.
Nisqually National Wildlife Refuge
5
0
Yes
No
Yes
**The trails on NNWR offer wildlife viewing opportunities and a chance to see where the river ends. The trails are mostly on boardwalks.