Just because the snow has come and the temperatures have dropped doesn't mean that adventures have to stop! The Nisqually Watershed is proud to offer excellent snowy fun in the upper portions of the watershed. And if the snow isn't for you, much of the lower watershed is snow-free year round. Check out the other recreation pages to find snow-free trails!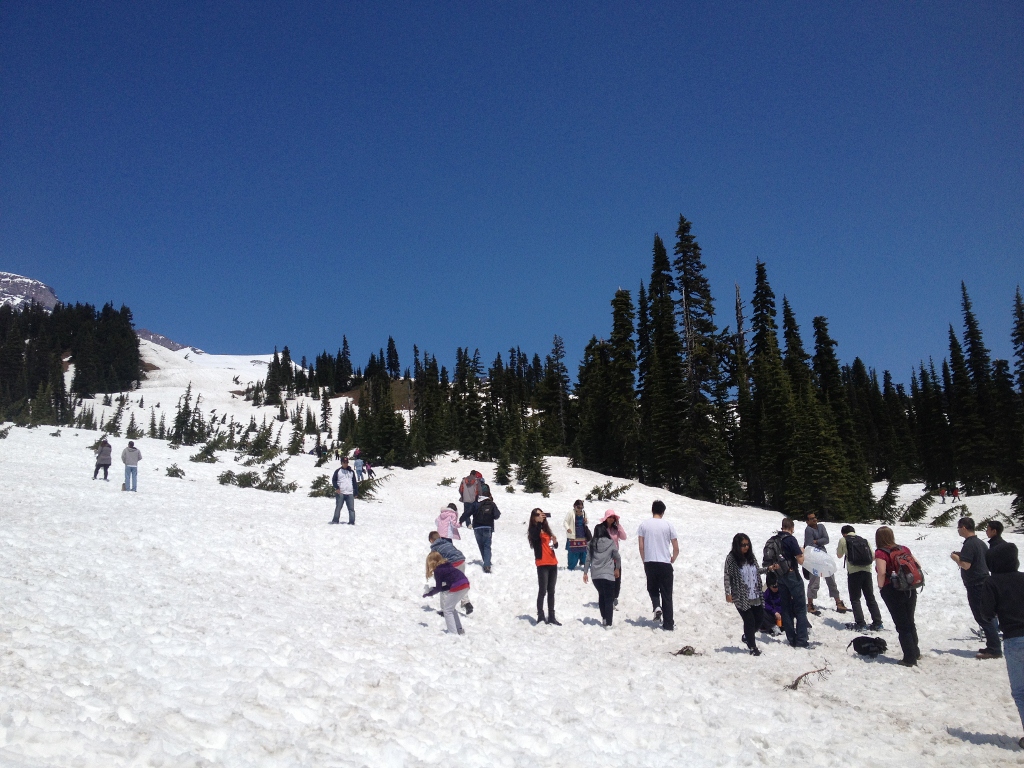 The watershed has a range of snow related activities to enjoy. Whether you're a snowshoer, a cross-country skier or a snowmobiler, there are trails for you! The Nisqually Entrance of Mount Rainier National Park also leads to a family friendly sledding area! If you'd like to downhill ski, though, you'll have to leave the watershed and head to a resort somewhere else.
Below is a list of trails that can be enjoyed in the snow! Lengths are round-trip distances in miles, and elevation gain is in feet. Remember to check conditions before you go, and don't try trails beyond your experience level, especially when the avalanche danger is high. Have fun and stay warm!
Mount Rainier
Explore Information
Mount Rainier National Park
is covered in snow for a large portion of the year, so its not a surprise that many of the trails are excellent for snow shoeing and cross country skiing. Access to the park requires the purchase of a pass, and snow chains are required for vehicles during the winter. Remember that pets are not allowed outside of vehicles while in the park!
Snowshoeing and Cross Country Skiing


Trail Name
Length
Elevation Gain
Westside Road
14
2000
**Beginners route for the first 3 miles, then intermediate with a high avalanche potential.
Kautz Creek Trail
2
N/A
**One mile in, there is a creek crossing which may be impassable in the winter. After that, trail is very steep and requires route finding.
Trail of the Shadows
0.5
0
**Beginners course on level terrain
Longmire Volunteer Campground
1.5
0
**Follows a plowed, paved road. Vehicles may be encountered.
Rampart Ridge Trail
4.6
1339
**Very steep, advanced snow shoe trail. Skiing is NOT recommended.
Wonderland Trail
3.8
N/A
**From Longmire to Cougar Rock Campground, this is an intermediate loop with rolling hills.
Cougar Rock Campground
2
0
**Follow the level roads through the campground. Snowmobiles may be encountered.
Carter Falls
2.2
N/A
**This is a steep, advanced trail. The river crossing may be impossible depending on water levels.

Snowmobiling is allowed in the park, but is restricted to certain roads. These roads vary depending upon conditions, so check with a ranger before you head out.
Winter Camping: While the campgrounds close during the winter, the park is still open to backcountry camping during the winter months. A free backcountry permit is still required, and can be obtained at a visitor's center. At least 5 feet of snow on the ground are required before camping is allowed, but a minimum of 8 feet of snow is recommended for snow fort construction. Check in a visitors center for information on where to go.
Mount Tahoma Trails Association
Explore Information
Mount Tahoma Trails Association
(MTTA) operates over 50 miles of cross country ski and snowshoe trails near Ashford, 20 miles of which are groomed. The system also contains 3 huts and 1 yurt that are available with a reservation for overnight stays. Otherwise, the trails are open to day-use. Note that the advanced trails are never groomed, and that wildlife, inclement weather and strong winds can be encountered at any time. Don't take these dangers lightly; stay on trails that are compatible with your skills. Make sure to check weather and trail conditions before heading out. To access these trails, a sno-park permit is required.