Join us on Saturday, Sept. 30 at the Billy Frank Jr. Nisqually National Wildlife Refuge for the annual Nisqually Watershed Festival!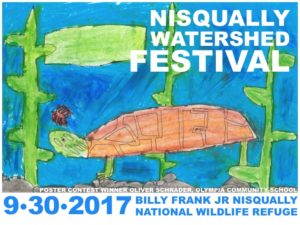 The Watershed Festival is an annual celebration featuring art, discovery, music and family fun. This year's festival will include a number of displays from local organizations, walking tours, the Insect Extravaganza, a salmon barbecue and other great coffee and food options.  We look forward to having you there!
Be sure to bring your own t-shirt to the festival to make a fish print with a Nisqually salmon! That and other activities will be part of the day-long celebration of nature at the 28th Annual Nisqually Watershed Festival!
Join us for these family friendly activities:

Paint a wood fish to decorate next year's festival
Make a salmon lifecycle keychain
Paint a salmon to make a paper print or a t-shirt (bring your own or buy one at the festival!)
See a live raptor show
Learn about hiking do's and don'ts from the Olympia Mountaineers
See a real eagle's nest
Take a tour of the Nisqually nearshore
And much, much more!!
Festival parking will be at River Ridge High School, 350 River Ridge Drive, Lacey, with a free shuttle running every 15 minutes. Map: http://goo.gl/maps/Y2gN Handicap parking will be available at the Billy Frank Jr. Nisqually National Wildlife Refuge, 100 Brown Farm Rd, Olympia.
Congratulations to 2017's Nisqually Poster Contest winner, Oliver Schrader, a 2nd grader from Olympia Community School! Check out the winner "Turtle in Water," plus all of the other entries, at this year's festival. The theme for this year's contest was "Life Under the Water."