The Nisqually River Education Project was one of eight projects to receive funding this year from NOAA's Pacific Northwest Bay Watershed Education and Training (B-WET) program. B-WET, established in 2002, seeks to improve the understanding of environmental stewardship of students, teachers and communities across the United States through education. These grants support standards-based, hands-on education activities that promote greater understanding about watersheds, the ocean and protected areas such as national marine sanctuaries.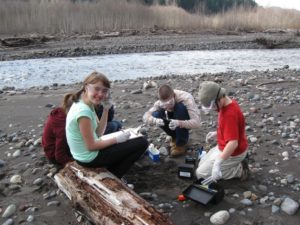 NREP's B-WET project, called Climate Literacy Action and Monitoring in South Sound (or CLAMSS for short) will provide training, networking, and classroom and field experiences for over 50 teachers in the Nisqually and South Sound watersheds. The project supports hands-on Water Quality Monitoring lessons for more than 1,250 students, empowering them not only as citizen scientists, but to take action to improve water quality in their communities. In addition, the CLAMSS Fellows program will offer teachers in-depth training on ocean acidification and climate change, with science-based resources and Nearshore field trip opportunities for their classes to study the effect of warmer, acidifying oceans on marine life.
We're excited to launch CLAMSS with our fabulous network of teachers and partners, including South Sound GREEN, the Billy Frank Jr. Nisqually National Wildlife Refuge, and NOAA. Follow NREP on Facebook to see updates on the project throughout the year!