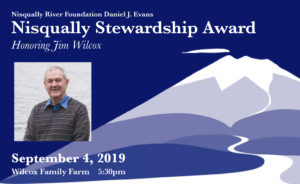 The Daniel J. Evans Nisqually Stewardship Award was created in 2007 by the Nisqually River Council to honor individuals and organizations that have had a significant impact on the Nisqually Watershed. On September 4, 2019, Jim Wilcox will receive the 3rd Nisqually Stewardship Award, recognizing his many decades of stewardship and contributions to the communities of the Nisqually River Basin.
Jim grew up working on Wilcox Family Farms in Roy, a family business founded in 1909 by his great-grandparents and now in its 5th generation. The Wilcox family has always been profoundly grateful for and deeply protective of the natural world that gave them their home on the Nisqually. With his brother and business partner Barrie, Jim has carried forward that legacy, implementing innovative farming practices that contributed to the health of the river and making Wilcox Farms an environmental leader. (Wilcox eggs were certified Salmon-Safe in 2006: read about their sustainable, fish-friendly practices.)
Jim served as a founding member of the Nisqually River Council and has remained active in many Nisqually river activities, including encouraging his son JT to be the founding Vice President of the Nisqually Land Trust and then his granddaughter Katie to join that board as the first 2nd generation member. In 2013, Jim was appointed by the Governor to be on the board of the Puget Sound Partnership's Leadership Council. Jim has served with great dedication in promoting the mission of preserving and improving the health of Puget Sound and the restoration of salmon runs, especially in his beloved Nisqually River Basin. Jim's leadership by example is convincing proof that conservation and business goals can be harmonized in pursuit of long-term sustainability.
We're excited to present Jim with the Nisqually Stewardship Award at an event at Wilcox Family Farms on Wednesday, September 4, 2019. Tickets and sponsorships are available now and support the Nisqually River Foundation's work in coordinating the Nisqually River Council, providing education programs to over 1,000 watershed students, and facilitating access, stewardship, and appreciation of our wonderful watershed. We hope you can join us!
Thank you to our event sponsors for the 2019 Evans Award: