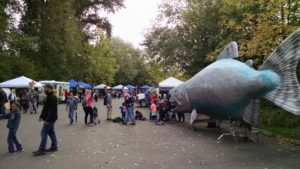 For decades, the Nisqually watershed community has served as a role model of cooperative conservation. "Beginning with protecting the river's mouth from development in the 1970s to coming together in recent years to restore a threatened Chinook stock, the people of the Nisqually watershed have shown how we can work together for the environment," said Justin Hall, executive director of the Nisqually River Foundation.
Along with that hard work, the watershed has also celebrated. For 30 years, the Nisqually Watershed Festival has been celebrating Nisqually's history and culture. This year's Watershed Festival is on Saturday, September 28, and it will be a free, daylong event featuring art, discovery, music, and a whole lot of family fun.
Check out the "Insect Extravaganza," where guests can view insects from around the world, as well as their own backyard. You can also listen to stories in the Blue Salmon Tent, dress up to take part in a critter parade, join a guided nature walk, and board a shuttle to the Nisqually Reach Nature Center to take a tour of the Nisqually nearshore.
The always-popular salmon barbecue is back, along with Radio Fryer's burgers and fries, a shellfish tasting from Taylor Shellfish, and other delicious food options.
Dozens of non-profits and local agencies will be there to share educational and hands-on activities, crafts, and information. You can explore the local ecosystem in a marine touch tank and learn about salmon habitat by climbing inside a 25-foot long replica salmon named Fin. And celebrate our 30th "Pearl" Anniversary with a picture at our shellfish and marine life photo booths!
Don't forget to bring a t-shirt or use paper to make your own Nisqually salmon print, learn about the salmon lifecycle by making a keychain, and paint a wooden fish to be displayed at next year's festival.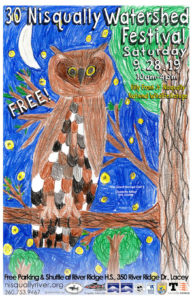 Stop by the main stage to catch these exciting performances: a live raptor show, Nisqually Canoe Family drumming and dancing, and other exciting performances. Student poster contest entries will be on display, and the Nisqually Stream Stewards 2019 graduation ceremony will showcase volunteer opportunities throughout the watershed.
"Watershed communities have been working hard to protect and restore this unique place for years," Justin said. "The festival has served as a showcase for what makes the Nisqually special. It's where we all come together to celebrate what we have accomplished."
For more information about the festival, visit: https://nisquallyriver.org/nisquallywatershedfestival/. All Festival parking is at River Ridge High School, 350 River Ridge Drive, Lacey (map: http://goo.gl/maps/Y2gND). Free shuttles run every 10 minutes to take guests to the Refuge.
2019 Poster Contest Winner: "The Great Horned Owl," Charlotte Millar, 3rd Grade