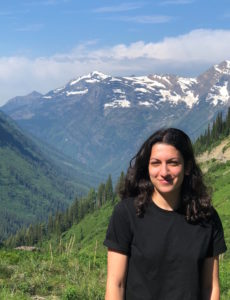 Hello! My name is Maya, and I'm so excited to be working with the Nisqually River Education Project through AmeriCorps this year. Growing up and going to school in the Northwest has provided me so many incredible experiences in connecting with the wild world around me and learning how to be a better steward of the land, and I want to give children today the same opportunities I had to get involved at an early age. Programs from my childhood such as Outdoor School, the Portland Audubon Society, and outdoor field trips to learn about the Columbia Slough Watershed have stuck with me into adulthood and these experiences inform my work in environmental education here at the NREP. 
I graduated from The Evergreen State College in 2019 with a Bachelor's of Science with an emphasis in population biology and genetics. During my time at Evergreen I assisted with research on biochemical mechanisms of Ctenophores, and later the streams on the Pumice Plain of Mount St. Helens. I have broad experience in ecology, field data collection methods, and science communication. I hope to learn more about the ecology of the Nisqually Watershed and to connect teachers and children with the land they live on and get resources from. My goal is to empower children to pursue their interest in the natural world around them and to seek out opportunities like this internship to make a positive change in the way we learn about our surroundings.
In my free time I enjoy fishing, birdwatching, hiking, and reading. Get in contact with me at maya@nisquallyriver.org.