Giving Tuesday Now is a global movement to support nonprofits of all kinds in responding to the coronavirus pandemic and economic uncertainty. We know that this is a difficult time for many people, and the most important thing you can do is stay safe and well at home! If you do have something to contribute to our watershed, whether it's a financial donation, a commitment to volunteer, a happy memory, or a desire to learn more, we've created a form where you can give whatever you're able. 
5 ways we're learning from salmon to adapt our mission for these unusual times: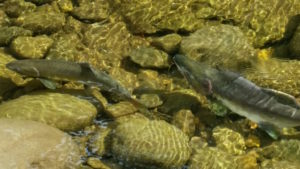 Remembering our roots. Salmon may travel thousands of miles, but they return to where they were born. The Nisqually River Foundation comes from a long legacy of collaborative stewardship, conservation, and education in the Nisqually Watershed. We're part of a unique family of individuals, nonprofits, businesses, and governments who have been working together for generations to care sustainably for our lands, waters, and communities. This history of connection is what helps us navigate through times of crisis. Wherever we go from here, we'll always return to those values.   
How you can help:
Learn about the

Nisqually Watershed Stewardship Plan

that guides our approach to conservation and sustainability.

Buy local when possible, or shop with a sustainable or

salmon-safe

business in the Nisqually Watershed. If you're shopping online, select Nisqually River Foundation on

smile.amazon.com

to have Amazon donate a percentage at no cost to you.

Share your experience of the Nisqually Watershed

here

or on

social media

. Why does this place matter to you?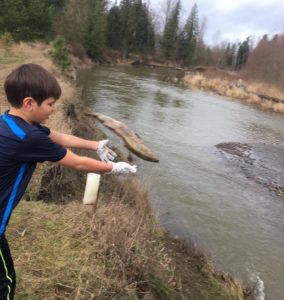 Giving back. To the Nisqually Tribe and other native peoples of the Northwest, the salmon is respected as a giver. They nourish not only people, but the entire ecosystem, from bears and eagles to forests and microbes. Our goal for the Nisqually River Foundation is to do the same. We're thinking creatively about new approaches for giving back during and after the pandemic. For now, we've moved Nisqually River Council meetings online. We're also retooling Stream Stewards to allow safe ways to learn about and volunteer in the watershed, whether through virtual participation or socially distanced events. Our staff are keeping our programs going from home, and safely helping partner organizations with restoration projects while volunteer programs are on hold. Nourishing our environment is at the core of our mission, and we need more than ever to invest together in a sustainable future. 
How you can help: 
Take a cue from NREP students and pick

one small change

to make your at-home lifestyle more environmentally-friendly.

Sign up for emails

about volunteer opportunities and educational workshops, at home or in the watershed.

Make a

tax-deductible donation

to the Nisqually River Foundation to make sure our work will continue.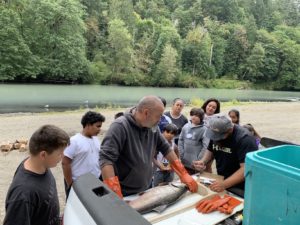 Helping the next generation to flourish. The salmon life cycle is built on paying it forward to the next generation. Our Nisqually River Education Project has fostered the curiosity, STEM skills, and stewardship values of local students for over 30 years. With schools closed and field trips canceled, we've moved lessons and professional development online so teachers and students can continue learning. Looking to the future, we're committed to making sure outdoor environmental education experiences remain accessible. We're working with schools and partners to adapt our programs so water quality monitoring, Student GREEN Congress, tree planting, and Eye On Nature can continue to shape the next generation of the Nisqually River's caretakers.
How you can help: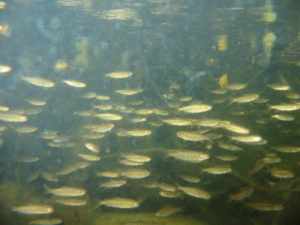 Acknowledging interdependence with our environment. Salmon are a keystone species for Pacific Northwest ecosystems: they affect the health of the entire ecosystem. Crises like the COVID-19 pandemic highlight how human health and well-being is deeply connected. The same is true for the environment. Salmon and other species face their own crisis, as climate change compounds the historical effects of pollution, harvest, and habitat destruction. Just as we're relying on scientists to inform how we safely fight the virus, we need to understand what's affecting our ecosystem and how to make it more resilient. Thanks to many years of investing in time, money, research, and partnerships, we have one of the most protected watersheds and ambitious restoration agendas in Puget Sound. While we're meeting virtually for now, we're still sharing the story of conservation in the Nisqually and the reasons we need it more than ever.
How you can help:
Sign up for emails

about monthly Nisqually River Council meetings to learn about current research, challenges, and initiatives in our watershed and the greater Puget Sound area.

Share

science-based information

about environmental issues and actions with your family, friends, and community leaders.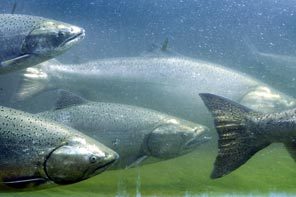 Keep swimming upstream. If you've ever watched salmon migrating up to their spawning grounds, you know it's hard work. They pause to rest in slower patches, gathering strength to keep pushing forward. We know, from decades of incremental progress towards a protected and resilient Nisqually watershed, that big challenges are not solved overnight. We also know that it's worth doing. The waters may be turbulent and the current may be strong, but we're following our instincts home. Thank you for swimming with us.
How you can help:
Take time to appreciate what we have. Browse some

favorite photos

from around the watershed, share your own, or tell us a spot you're looking forward to visiting when it's safe to travel again.

Share your thoughts

on how we can build a sustainable future.

Once again, if you're able to,

make a donation

to a healthy and sustainable Nisqually Watershed. Your support helps our small organization make a big difference.
We'll keep you updated on our plans and services in the coming weeks!