We have the proud honor of hosting the first-ever Nisqually Wild and Scenic Film Festival!  We intend to combine nationally recognized Wild and Scenic films with those that have been produced locally or possess a cultural and/or physical connection to the Nisqually watershed and its inhabitants.   The film festival will be held in conjunction with this year's Nisqually Valley's Home, Garden, and Trade Show.  There will also be a number of hands on activities for kids of all ages, along with door prizes and much, much more!  This event, taking place April 28th and 29th at Yelm High School's Performing Arts Center, truly holds something for everyone!
So what's Wild and Scenic all about?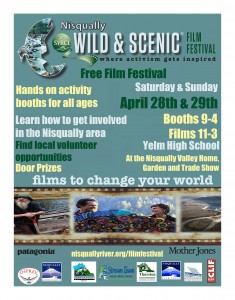 "The mission of the Wild & Scenic Film Festival is to inspire people and unite communities to heal the earth.  We show environmental and adventure films that illustrate the Earth's beauty, the challenges facing our planet, and the work communities are doing to protect the environment.  Through these films, Wild & Scenic both informs people about the state of the world and inspires them to take action.
Considered the largest film festival of its kind, this year's films combine stellar filmmaking, beautiful cinematography and first-rate storytelling to inform, inspire and ignite solutions and possibilities to restore the earth and human communities while creating a positive future for the next generation.  Festival-goers can expect to see award winning films about nature, community activism, adventure, conservation, water, energy and climate change, wildlife, environmental justice, agriculture, Native American and indigenous cultures.
This year's selections will not only take audiences to some of the most remote and beautiful places on the planet, but introduce them to the magnificent animals that inhabit these places and the courageous individuals who are working to protect and preserve both for future generations.  The films instill a deep appreciation and a sense of wonder for the natural world that surrounds and supports us."
Hope to see you there! 🙂
Visit our website at: www.nisquallyriver.org/filmfestival  for more details!
Click here to see the film schedule for the weekend!