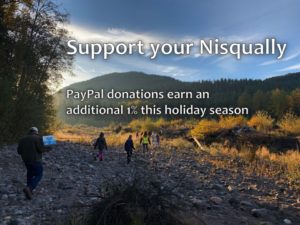 Make a holiday donation to support our work in the Nisqually Watershed!
The Nisqually River Foundation, Nisqually River Education Project, Nisqually Stream Stewards, and all our programs rely year-round on the amazing support of our community. Thanks to your donations, volunteer time, expertise, and passion, our watershed continues to build restored habitat, bring watershed education to students and adults, and cultivate new and old stewards of our beautiful river basin.
In 2018, our accomplishments include:
Starting on #GivingTuesday, you can help us ring in a great 2019 by donating at https://www.paypal.com/fundraiser/charity/117261 and earning an additional 1% from the Paypal Giving Fund to make your gift go even further. Read more about our current projects and ways to get involved throughout the year.
As always, we are so thankful for your support!