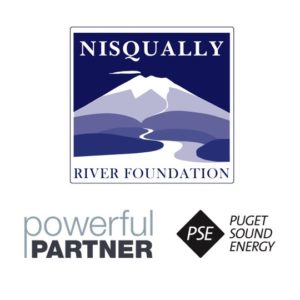 The Nisqually River Foundation is excited to be a Powerful Partner of Puget Sound Energy in 2020. The Powerful Partnership's program, now in its fourth year, is part of PSE's commitment to help the environment and human services organizations. This year, PSE selected 24 organizations, including the NRF, across its 6,000 square mile service area to receive a total of $200,000. These partnerships allow PSE to enhance community engagement and awareness by focusing its giving efforts. 
The NRF will use this funding to support our work fostering community partnerships, passionate volunteers, and a sustainable future for the Nisqually Watershed. Over the coming year, we'll work through Powerful Partnerships to support volunteer restoration events and classes through the Nisqually Stream Stewards program, as well as expand outreach and education opportunities for the Nisqually River Council and Education Project. In addition, we'll be partnering with PSE to educate PSE clients, employees and donors on ways to restore habitat, save energy and money on their bills, and share safety and emergency preparedness information.
"Puget Sound Energy cares about our communities and the environment, so teaming up with organizations committed to do the same made sense," said PSE Vice President of Communications Andy Wappler. "Through these partnerships, not only can we provide funds to support the organizations' missions but also educate the community on how we can create a better energy future working together."
"The Nisqually River Foundation is excited to be a Powerful Partner of Puget Sound Energy this year," said NRF Executive Director Justin Hall. "The Nisqually Watershed has been recognized for over 30 years as a leader in collaborative, community-based conservation. Our Nisqually Watershed Stewardship Plan looks at sustainability through environmental, economic, and social lenses to strive for thriving ecosystems and human communities, and we're proud to have PSE's support in engaging people in our work."
Look for content from PSE about energy efficiency, client resources, and conservation partnerships at the Nisqually Watershed Festival, Nisqually Stream Stewards events, and on our blog and social media accounts throughout 2020!