The Nisqually River Foundation held the third Daniel J. Evans Event on September 4, 2019, honoring Jim Wilcox with the Daniel J. Evans Nisqually Stewardship Award. Every five years, the presentation of the Evans Award gives us an opportunity to recognize someone who has shown extraordinary leadership in protecting and advocating for the Nisqually Watershed. The event took place at Wilcox Family Farms, with Mount Rainier in the background, and featured a menu including fresh-caught Nisqually Chinook salmon from She Nah Nam Seafood. For the 150 attendees who came together to recognize Jim and support the Nisqually River Foundation, it was a memorable evening celebrating our watershed's remarkable decades-long commitment to holistic and collaborative sustainability.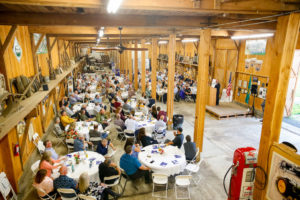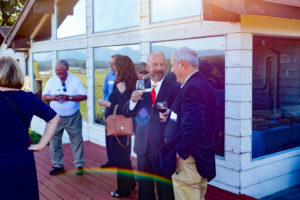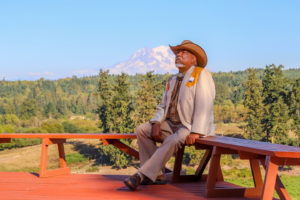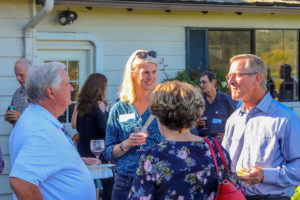 Jim Wilcox follows Billy Frank Jr. (2006) and Congressman Norm Dicks (2011) in receiving the Evans Award. He served as a founding member of the Nisqually River Council and is a current member of the Puget Sound Partnership's Leadership Council, as well as being a longstanding leader in sustainable agriculture and advocate for salmon recovery.In a congratulatory letter, Governor Jay Inslee noted Jim's "outsized influence on agriculture and environmental stewardship, in Washington as well as around the country and the world." A third generation family farmer, Jim was involved early on with the Nisqually River Task Force in the 1980s, when contentious debates between farmers, fishermen, tribal members, and environmentalists divided the watershed. In forging a friendship with Billy Frank Jr., Jim became a leading voice for cooperation around a shared vision of a watershed where businesses, salmon, and people could thrive together.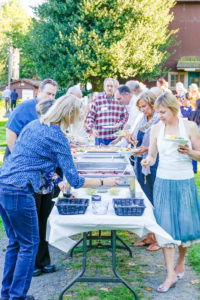 This philosophy was echoed throughout the night by speakers including former Governor Dan Evans, the namesake of the Nisqually Stewardship Award. Governor Evans described the River Council as "an opportunity for people of good faith to come together and find a way to preserve the greater good for everyone." David Troutt, the current chair of the Nisqually River Council, agreed, saying "The Nisqually model is built on collaboration and relationships, and Jim has been in the center of our work for 30-plus years. His leadership in helping create this watershed community of neighbors working together has been instrumental to our success."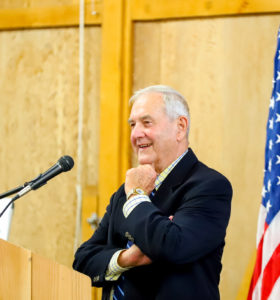 In his acceptance remarks, Jim reflected on more than three decades of successful collaborations in the Nisqually Watershed and set forth a challenge to keep up with the task of salmon recovery. "We know the three or four essential things that need to be done to keep the salmon viable and to restore the great runs we used to have," he said. "We know what to invest in, we know what to do and, in my view, we need to move forward."
Altogether, the Evans Event raised over $55,800 to support the Nisqually River Foundation, allowing us to continue fostering partnerships, engaging volunteers, protecting and recovering our natural resources, and bringing students out for hands-on learning in the watershed. Special thanks to our generous event sponsors for joining us in keeping the Nisqually Watershed sustainable for generations to come: Wilcox Family Farms, the Nisqually Indian Tribe, Taylor Shellfish, J. Z. Knight, Clark Nuber PS, Port Blakely, Wesmar Company, Inc., Foster Pepper, Coyne Jesernig LLC, Tom and Ellen Randall, Laura Weselmann, Bryant Christie Inc., Bill Bryant and Barbara Feasey, and William Ruckelshaus.
All photos credit to Means Photography. See more pictures from the event here!