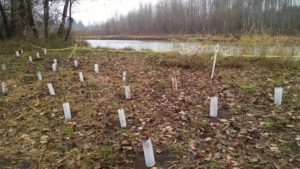 Fall in the Nisqually watershed typically means busfuls of school children coming out to the banks of local streams and rivers to engage in real world science and community service by planting trees. This year, of course, students are mostly learning from home and field trips are on hold. But we still have over 3,000 trees to plant this fall, so we're calling for volunteers to join us for socially-distanced environmental action!
We're planting at two sites this year in partnership with the Nisqually Land Trust and Nisqually Indian Tribe. Click the links below to select a date and sign up: you'll receive an email with directions to the site once you have registered!
Register here:
October 21-November 3: Planting at Powell Creek Protected Area
November 4-November 18: Planting at Yelm Shoreline
Tree planting is a perfect way to get some outdoor exercise and community service with your "pod." Each planting day is divided into three-hour morning and afternoon shifts. Sign up for as many as you want! Our planting sites are run in accordance with the state's COVID-19 reopening plan. Volunteers and staff will maintain a social distance of at least 6 feet at all times, wear a mask when gathered as a group, and supply their own gloves, water, and snacks. For the time being, food or coffee will not be served, and gloves will not be provided. Make sure you bring your own! We will provide hand sanitizer and shared tools (shovels and mallets) which will be sanitized before each work party. Gas stipends are available for volunteers that need financial assistance. 
Here's what to bring for a successful planting day:
Work clothes you're comfortable getting wet and muddy
Waterproof boots
Face mask
Gardening gloves
Water bottle and snacks for yourself or your group (and lunch if you're staying all day)
Personal hand sanitizer if you have it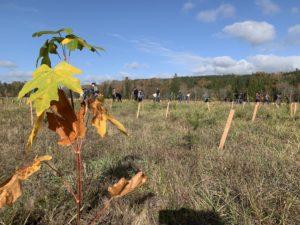 Planting trees is key to recovering our watershed's' threatened steelhead and Chinook salmon. "When you look at the river from a salmon's viewpoint, it's surrounded by trees that provide shade, produce oxygen, and create habitat for the bugs that salmon eat," says Maya Nabipoor, NRF AmeriCorps Volunteer. "It's critical that these trees get planted to help the salmon, other wildlife, and really, our whole planet." Planting trees is also key to sequestering carbon and increasing resilience to climate change. In addition to our partners at the Nisqually Land Trust and Nisqually Tribe's Salmon Recovery program, our restoration plantings are supported by the Washington Department of Fish and Wildlife's ALEA (Aquatic Land Enhancement and Acquisition) grant, the Washington State Recreation and Conservation Office, and the Rose Foundation for Communities and the Environment.