This time last year, we couldn't have imagined how the Nisqually River Foundation would be spending 2020. Like so many of you, we've juggled cats, kids, and flaky internet connections while working from home. We cancelled or postponed some of our favorite annual programs. We became amateur video producers and learned how to hold festivals, fundraisers, and science lessons online. We've made salmon-print masks and washed our hands thousands of times and shared photos and memories of the people and places we're most excited to see again.
Throughout the year, we've been overwhelmed with the support shown by our community. During a difficult time, you've shown that stewardship, environmental education, and conservation in the Nisqually Watershed are among your core values. Thank you so much for the incredible generosity you've shown with both your gifts and your time this year. You are keeping us working for the watershed and all those who love it during these difficult times.
Here's how we've been putting our values into action this year, adapting our programs for the present moment and strengthening our foundations for the future: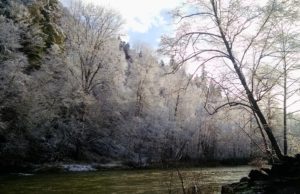 Nisqually River Council
The Nisqually River Council took its meetings online, continuing a 33-year tradition of gathering every month with watershed partners. Our virtual meetings with scientists, local officials, and community members discussed salmon recovery, climate adaptation, community planning, and environmental education. Looking to the legacy of Council founder and civil rights activist Billy Frank Jr., we've begun an ongoing process to identify issues of diversity, equity, and inclusion, and are looking forward to continuing that discussion with you in the coming year as we work to make the Nisqually Watershed a welcoming and accessible community for all. The Council also welcomed the Cities of Olympia, Lacey, and DuPont as new members and is adopting an updated Nisqually Watershed Stewardship Plan for the next 10 years. The new Stewardship Plan builds on our long history of collaboration and will continue to guide the River Council as our watershed recovers from the pandemic and looks to an environmentally, economically, and socially sustainable future.
Nisqually River Education Project
The NREP team did incredible work this year to support teachers with remote learning and keep kids engaged with nature during the pandemic, from backyard citizen science activities to salmon dissections over Zoom. This fall, we delivered more than 500 water quality monitoring kits to students, bringing Nisqually water to them at home to test for pH, nitrates, and compare results from their normal testing sites. Along with the kits, we launched an online StoryMap with interactive games, data, and 360° pictures of each site so students can virtually visit their streams. This year's online Summer Institute for Teachers drew forty teachers from all around Puget Sound to learn about teaching environmental justice, climate science, and ocean health, representing one of our largest and most geographically-diverse workshops ever. Although there's no replacing a field trip, connecting online has allowed us to build new regional communities and make resources more accessible to new groups of learners in and outside of our watershed. Next year, we'll keep that momentum going with an online Student GREEN Congress and more virtual and at-home activities, as we look forward to being able to gather outside with kids again one day soon!
Volunteers and Outreach
Together with partner environmental organizations, we hosted the first-ever Virtual Nisqually Watershed Festival on YouTube, celebrating the lands, waters, species, and cultures along the river from Mountain to Sound. The videos are saved on our website and YouTube channel to share and watch any time. While we couldn't welcome a new class of Nisqually Stream Stewards this year, volunteers came together in small groups to plant over 3,000 trees in record time this fall. We also tried out some new forms of watershed education for all ages, working with local authors, the Nisqually Indian Tribe, and Nisqually Land Trust, to offer virtual talks exploring the history of Mount Rainier, the state of Nisqually salmon recovery, and community forestry. Look for more events like these in the coming year: it's been an amazing way to connect and share the incredible stories of our watershed.
We've heard from so many of you about the comfort and rejuvenation you've found in the Nisqually Watershed this year. The challenges of 2020 have reaffirmed our belief in the importance of caring for this place, and in the power of community and collaboration in building a sustainable future. As a 5th grade student reflected after doing water quality testing over Zoom: "This was an amazing experiment. I feel like it kind of brought the class together."
We're all in this experiment together: thank you for coming along with us! From all of our staff and board members, we wish you a safe, healthy, and peaceful new year. We are looking forward to brighter days and many reunions in 2021.
If you would like to make an end-of-year gift to the Nisqually River Foundation, you can do so here.