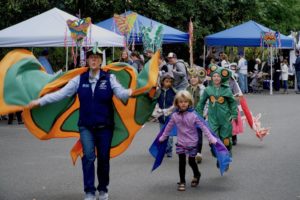 The Critter Parade is a favorite part of the Nisqually Watershed Festival at the Refuge. We can't share costumes and parade in person this year, but you can be part of a virtual critter parade by making your own wildlife mask or costume and sending us a picture to share at the Festival on September 26. (Can you make a critter mask from a face mask that protects your nose and mouth? We'd love to see your creativity!) Even better, take your costume on parade around your neighborhood to celebrate the natural world!
Supplies:
Printed animal mask template (or draw your own!)
Markers, crayons, or paints
Embellishments – sequins, stickers, or natural decorations
String or elastic
Scissors (and a hole punch if you have one)
Directions:
Step 1. Pick your creature! Will you be a hungry bear, a mischievous otter, a shy weasel, or a hopping frog? Or some other creature that lives in the Nisqually Watershed?
Step 2. Print a mask and decorate your mask! We've gathered some templates here in a downloadble PDF. You can also look up or draw your own (or get creative and use other natural or craft supplies to make a critter costume)!
Step 3. Cut out your mask and eye holes. Punch a hole in each side near the ear and attach a string or elastic tie.
Step 4. Send us a picture of your mask to join the Virtual Critter Parade at the Nisqually Watershed Festival on September 26!
Tag us on Facebook at Nisqually River Council, on Instagram or Twitter at @nisquallyriver, or with the hashtag #nisquallywatershedfestival and we will share your photo during the event!
Mask templates to print:
Check out this wolf mask courtesy of Wolf Haven, and tune in to visit with the wolves on September 26!
Find more crafts and activities to participate in this year's virtual Watershed Festival at https://nisquallyriver.org/festival/.